Choosing which website platform to use is a decision most new businesses make when it comes to building your first website. The amount of information available can be overwhelming making the decision even harder. We've picked out the main features and published what we feel are some of the pro's and con's of each service below.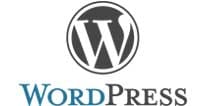 WordPress is by far the most popular CMS (Content Management System) out there. 33% of websites on the internet are powered by WordPress which is a staggering amount!
There are two options available:
WordPress.com is a hosted service where you can set up a website or blog that runs on WordPress. A monthly plan is required and the features available vary by your chosen plan.
WordPress.org is where you can download the WordPress software to use on your own hosting elsewhere. You're not limited in features as with some of the wordpress.com plans and can take full advantage of the software.
Pros's
Plugins – There are over 50,000 free and paid plugins available. Chances are there is a plugin to do pretty much anything you require on your site
User Friendly CMS – Very easy to navigate through your posts and pages of a WordPress site.
Ready-made themes – There are thousands of free and paid for ready made themes available. Most of these themes are already optimised for responsive mobile viewing. Essential for good SEO.
Cheap – WordPress is free! If you download the software all you need to pay for is hosting.
SEO optimised – Plugins such as Yoast SEO (Which is free) can make optimising pages and posts a breeze.
Your site to keep! – Unlike other website builders, you can migrate your WordPress website between different hosts. You're not tied down to one provider.
Con's
Upkeep – You're in charge of your website. This means tasks such as security, backups and updates fall under your responsibility. Various companies (including us) offer Managed WordPress Hosting where we take care of this for you.
No drag & drop page builder – Out of the box there is no easy drag & drop page builder. There are some free page builders available to make your life a little easier though. We recommend Elementor.
Coding Knowledge – Whilst knowledge of HTML and CSS is not essential, they do come in handy and makes life easier in the long run. You'll find you'll pick up basic skills as you use WordPress.
Vulnerability – Being an open-source platform, WordPress is an attractive target for hackers. To mitigate against this risk ensure your WordPress version is up to date as well as any installed plugins. Ensure you take backups before any website updates! A good firewall plugin to help protect your site is WordFence.

Wix has been around since 2006 and is aimed at those after a simple point and click website builder. Wix is not as popular as WordPress only holding 1% of the internet but still remains an attractive option for those after simplicity. There are multiple plans available on Wix which can be found here.
Pro's
All in one managed solution – Wix combines hosting and website management in one plan.
Simplicity – Editing pages and content is really easy with it's highly intuitive easy to use editor.
Free option – There is a free plan available if you're happy for your website to be presented as http://yourbusiness.wix.com and for them to place adverts on your site.
Security & Updates – As wix sites are hosted at Wix, they'll take care of the security and update side of things. You only need to focus on your website.
Con's
You're stuck with Wix – A Wix website cannot be exported and hosted elsewhere. You're stuck with Wix for the life of your website.
Slowness – Some users report slowness compared to a self-hosted website. This is caused by being on the same server as thousands of other Wix users. If another user has a surge in demand on their website, your website performance will take a hit.
Expensive – To use your own domain with Wix, the lowest plan at the time of publishing is £6 a month. This is quite expensive and you can get better value for your money and more features with self-hosted solutions.
Lacking in third party plugins – Compared to WordPress the amount of plugins and apps available for your website is lacking in comparism. Wix however are adding new plugins all the time.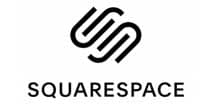 Squarespace have a 1.5% share of the internet. This is more that Wix but still not a touch on WordPress. Squarespace has been around since 2003 and is another simple website builder aimed at those after a simple point and click website builder.
Pro's
All in one managed solution – Squarespace combines hosting and website management in one plan.
Quality templates – The ready-made website designs on Squarespace have that more premium feel and are more flexible compared to others.
GSuite Included – With the Business plan you'll get Google's G Suite included with your plan. This will give you branded @yourbusiness.com email powered by Google.
Stock Images – Squarespace provides you with unlimited access to Unsplash's image library allowing you to search from thousands of professional stock images for use on your website.
Con's
You're stuck with SquareSpace – As with Wix, Squarespace is a hosted solution. This means you cannot host your Squarespace website elsewhere on your own server or other hosting provider.
No free plan – There are no free plans with Squarepace. They do offer a trial however this may not be suitable for someone who wants a basic free 1 page website.
Complicated page builder – The page builder is less-straightforward compared to competing site builders.
Lacking in third-party plugins – Similar to Wix, the amount of plug-ins and application available to add to your website is limited compared to offerings such as WordPress.