Get online with website, email & hosting for only £199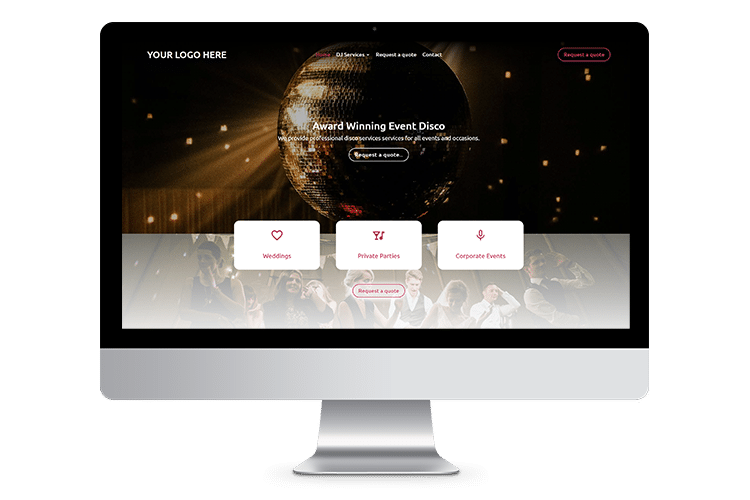 Get your mobile DJ business online with our Mobile DJ website package.
Just £199 – Get your DJ business online quickly & easily for less that the price of 1 gig!
What's included..
Mobile DJ Website Offer
Our DJ Website Template

Your Logo

Your Colours/Branding

Quote Request Form

12 Months Hosting

Free .co.uk Domain Name

Branded @yourdomain Email

Copyright Owned By You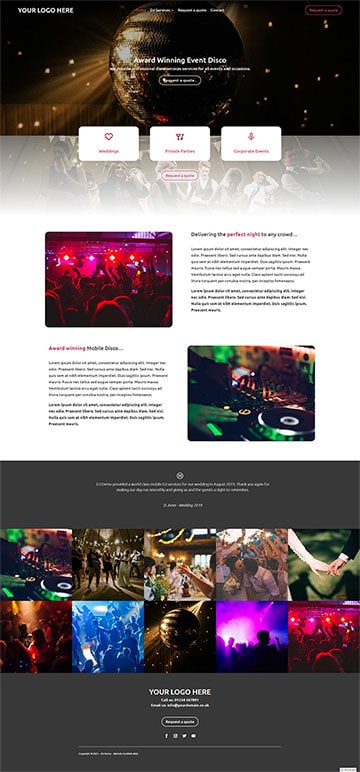 How will the website look?
Your Mobile DJ website will be based on our award winning DJ Website Template. We'll use your own images, logo, colours and branding to make the site truly your own.
Simply fill in the form below and a member of the team we'll be in touch to get the ball rolling!
Your details are only used for the sole purpose of contacting you regarding this offer. They're not saved and you won't receive any spam or marketing. We promise!
How much is hosting after the free 12 months?
You will be placed on our Bronze hosting plan. After 12 months, you can continue to host on this plan for just £4.99 a month.
Who provides the website content?
You will provide us with any website copy and images to be used on the website. We'll create a shared area to allow easy transfer of files during the design process.
How long will the build take?
It usually takes 1 week to build and test your new website. We will book in your slot on confirmation of the project.
How do I renew my free domain name?
You will get a free .co.uk domain name of your choice for 1 year. After this you can renew additional years. This is currently set to £8.50 a year but can change from time to time.
I need more pages
This offer is only for the layout shown above. If you require more custom content, please contact us for a bespoke website quote.
Can I view the design process?
Yes! Your website will be built on a development URL. You'll be able to see the whole build process and we won't go live until you're happy.
Is there an up front cost?
A deposit of £50 is required with the remaining balance due on completion of the website. This is to cover our server setup costs. 
Can I use a domain name I already own?
Yes of course. If you already own a domain name, we can point that to our servers and build your new website using this.
I found Blink Web Design through a Google search and so glad I did. Shane was brilliant from start to finish. I had an idea of what I wanted for my business and he delieved a perfect result! he has been so supportive and helpful and I highly recommend for anyone needing a professional look for a website to showcase their business.